Opportunity Enfield magazine launched
Opportunity Enfield magazine was launched last night (October 13) at a special "Discover Enfield" event at the Palace of Westminster, organised by North London Business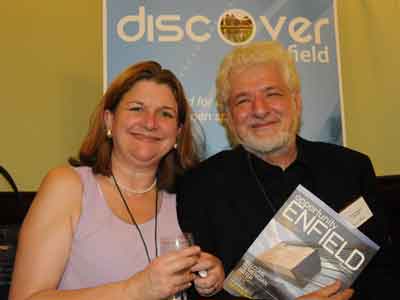 The event offered dozens of prospective developers and investors a chance to hear from Enfield leaders why the borough is a premier location for their business.
Introduced by North London Business chief executive Gary Ince, MPs Nick de Bois and Andy Love made passionate presentations describing "amazing and visionary plans" for Enfield's development.
Special guest and UK Regeneration chief executive Jackie Sadek (pictured above left with councillor Del Goddard, Enfield Council cabinet member for business and regeneration) described the borough as "an awakening giant", emphasised Enfield's locational advantages and commended the local authority's strategy. "You will have inward investors flocking to your door even in these troubled times," she predicted.
Enfield Council's leader, councillor Doug Taylor, highlighted key council objectives to stimualte growth and investment: "At Meridian Water we think we can develop 3,000 jobs and 5,000 homes - it's a very significant project.
"We strongly want to see a third rail track on the line to Stansted airport. And we're creating a centralised energy network to provide heat and power to a large part of north London."
And the council's chief executive Rob Leak concluded: "I like win-win-wins. Enfield is already a great place to live for its residents and it can be even greater for them.
"There's an opportunity to grow the prosperity of London by billions of pounds here. And it's a great opportunity for your investors and shareholders to make money. We look forward to helping them to do that. Enfield is definitely open for business."